The CDC estimates that each year 48 million Americans eat something that makes them ill. To prevent this, food and beverage manufacturers follow rigorous equipment cleaning and sanitizing regimens, striving to remove any trace of contamination. Steam and other treatments are hard on process equipment though and that's why food industry standards require the use of 300-grade stainless steel. Stainless delivers both temperature and corrosion resistance and can be polished to a very smooth finish, helping ensure the safety of the food and supply.
Stainless for Purity
Cleanliness is of a paramount concern in many industries. Medical device manufacturers and the pharmaceutical and semiconductor industries depend on exceptionally pure fluids and any contamination can be very expensive. That's why, like the food industry, they depend on stainless steel piping, vessels and components.
Just using stainless isn't enough though. The finish must be smooth to resists both bacterial or other build-up and the erosion that can occur over a rough surface. Experts consider 10Ra or better an acceptable level. Another concern is the use of threaded fittings. These can harbor residues and bacteria to contaminate the fluid being transported.
Problem Solved
Recognizing that these industries needed a unique solution, ChemTec's R&D team came up with the Ultra-High Purity 500 BP flow monitor. Developed initially to handle saline solutions, this incorporates several features that make it appropriate for any industry needing to meet demanding levels of cleanliness.
ChemTec specializes in low flow applications, although with it's 1/2" bore the 500 BP is suited for installation in main supply lines before they split down into smaller branches. For air the calibration is 6 to 991 SLPM while the numbers for water are 0.11 to 15.14 LPM.
Harnessing Existing Expertise
ChemTec performs machining, assembly and test at their factory in Deerfield Beach, FL. This lets the R&D specialists harness the metal-cutting expertise of their manufacturing colleagues to create novel designs that better meet market needs.
In the case of the Ultra-High Purity 500BP there were two challenges to address: finding an alternative to threaded ports and obtaining a 10Ra surface finish.
Rather than drilling and tapping for the inlet and outlet ports Chemtec engineers decided to butt weld the tri-clover fittings to the monitor body. This meant first developing a method of machining the body to accept the fittings, and then fine-tuning the welding processes. A characteristic of 316 grade stainless is that it has good welding characteristics, making it amenable to automation that creates a quality weld on every assembly.
Several surface finishing methods were evaluated before the team settled on electropolishing. Sometimes described as "reverse plating", this electrolytic process effectively dissolves metal from the surface. As such it's clean and avoids puffing stresses into the material the way mechanical finishing can.
A feature of electropolishing is that as electrical charge concentrates on sharp points and corners these areas get removed first. The result is that rough areas, even in hard-to-reach locations, are smoother, creating a surface that is easy to sterilize.
A further benefit from electropolishing is the way gases and liquids move through the bores. Eliminating micro-cavities leads to smoother, more laminar flow and less turbulence, which only serves to boost performance.
The Finished Product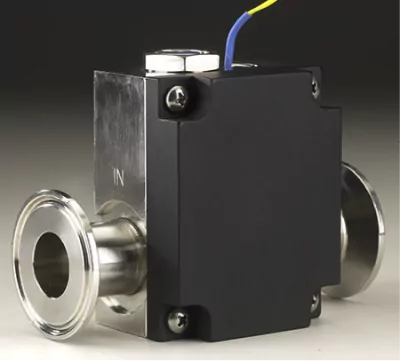 The Ultra Pure 500 BP flow monitor delivers the in-service performance demanded by the medical, pharmaceutical, semiconductor and food and beverage industries. Eliminating threaded ports eliminates one significant source of contamination while electropolished interior surfaces are easier to clean and improve fluid flow. When cleanliness is paramount it's the flow monitor to use.