About ChemTec's Excess Flow Valves
ChemTec manufactures  Excess Flow Valves (EFVs) for a variety of industries. Constructed of high-quality materials such as 316 stainless steel and brass and are designed with features intended to optimize the control and flow of liquids and gases. Not only does ChemTec manufacture EFV configurations that are ready-made for common industry applications, but ChemTec also has the ability to create custom EFVs to fit specific needs.
Industry Highlights
Semiconductor Fabrication
EFVs are installed in-line on hydrogen gas feeder lines; these are responsible for supplying hydrogen gas into the plant, delivering hydrogen to multiple areas within the plant.

Product Details: Ultra-high purity, electro-polished to 10 RA finish, manual reset EFV with welded ¾" VCR fittings*, conduit, CE and ATEX mark. *The welded VCR fitting option is of great benefit to the customer providing easy removal and replacement for maintenance without damaging the unit. 
Food and Beverage
EFVs are crucial to many different functions throughout the food and beverage manufacturing and packaging industry. Some of the ways that EFVs can be used in these processes include:
Packaging equipment – Bursts of nitrogen are used during the sealing stage in both dry and liquid packaging processes. EFVs are used in cap feeding, sealing, bottling, kegging, and canning.

Specialty gas distribution lines

– EFVs are used to detect or control the excess flow of gases (carbon dioxide or nitrogen) for beverage grade beer and soda consumption.

Process technology – EFVs are used in clean-in-place (CIP) and sterilization-in-place (SIP) systems,

UV Systems

for disinfection, and

recirculating chillers

.
Alternative Fuel
EFVs are crucial to many different types of alternative fuel lines, including those used for natural gas vehicles, CNG fueling stations, and hydrogen fuel cells. Many of these applications can benefit from ChemTec's High Pressure EFV Series, as the series handles a maximum pressure of 6,000 PSIG, features a controlled bleed that resets automatically, and PSO option.
CAPTI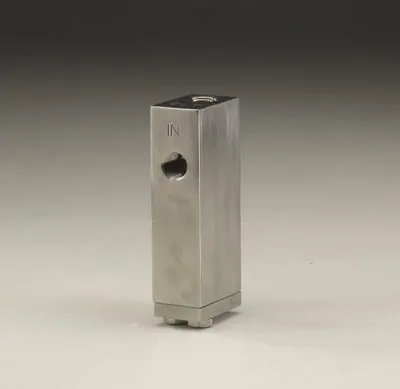 ON: (HP-EFV-750-S PSOFP in a CNG filling station; installed on the line between the supply line and filling station.)
Gas Utilities
EFVs are often used to regulate the flow of residential and commercial natural gas lines. In these applications, the EFV is typically installed in-line, between the main "T" and the home, where the line pressure is not less than 10 PSIG. The ChemTec EFV Manual Reset Series is often used for natural gas lines, and it is available in either a 316 stainless steel or brass body; this series features a positive shut-off with internal reset mechanism.
Other Applications for Custom Excess Flow Valves
EFVs can be used in hydrogen generators powering cell phone towers, and they can even aid in reverse osmosis desalination to protect marine pumps. For applications that have lines with unique dimensions or specifications, ChemTec can create custom EFVs that will fit securely and offer the same great features as the ready-made models