Background
The use of Compressed Natural Gas (CNG) for fleet and personal vehicles is on the rise. As a result, there is an increased demand for the construction of more fueling stations. Structural and operational safety guidelines are stringent, requiring stations to implement precautionary safety measures.
Application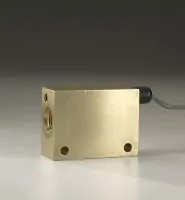 ChemTec was hired by South Florida's first public access CNG refueling station to customize their gas distribution panel with an intermediate visual indicator next to the control panel at the filling station. The gas distribution panel indicates the presence of gas flow and the line pressure. Both ChemTec's standard LCA Series flow monitor and the standard Excess Flow Valve (EFV) Series were installed on the control panel to monitor the gas flow and to shut off the system if key pressure indicators aren't met.
Product Features
EFV integration into CNG fuel systems on the supply line provide automatic shut down in the event of a line rupture or increase in line pressure. High pressure and ultra-high purity options offered. EFV can also be installed in gas and liquid cooling systems and gas control panels for CNG fueling systems, used to stop flow caused by an increase or decrease in flow or a pressure loss caused by leakage in a supply line. Ranging from 1/8"- ." ports to fit small line sizes. Additional fittings available to adjust to larger line sizes. ChemTec is also manufacturing a custom fitting that will convert a metric system thread to an American standardized gas cylinder thread.
Additional Information
For more information, contact Rajen Jairam at 800-222-2177 or at [email protected].