Developing and marketing "green" cars has not been an easy task, which is why gasoline powered vehicles still rule the road. However, as gasoline prices soar and concern over harmful emissions rise; cars that run on alternative fuel are becoming increasingly important. A perfect example is the Natural Gas Vehicle (NGV), – it's fuel efficient, environmentally friendly and offers a relatively low cost of ownership.
NGV is an alternative fuel vehicle that uses CNG or LNG as a cleaner alternative to other fossil fuels
NGV filling stations can be located anywhere that natural gas lines exist
CNG may be mixed with biogas, produced from landfills or wastewater, which doesn't increase the concentration of carbon in the atmosphere
CNG powered vehicles are considered to be safer than gasoline powered vehicles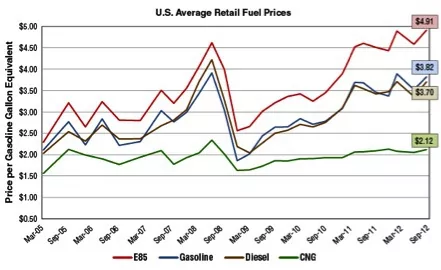 Related Articles
Autocar Hosted a Natural Gas Symposium for Top Private & Municipal Refuse Haulers – US Gas Vehicles
Refuse truck manufacturer and CNG innovator Autocar hosted a symposium on natural gas that brought together a group of America's top private and municipal refuse haulers with leading experts in the field of natural gas investment, exploration and technological innovation. READ MORE
Clean Energy Customers Ordered 70% more Natural Gas Vehicles in First Nine Months of 2013 Compared to 2012 – Wall Street Journal 
Clean Energy Fuels Corp. (NASDAQ: CLNE) announced that its customers ordered 70 percent more natural gas vehicles through the third quarter of 2013 as compared to the same period in 2012. The Company also announced select deals in the transit sector building on its continually-growing portfolio of natural gas fuel customers. READ MORE
Related ChemTec Product
ChemTec's EFV and LPH series all work together within Cryogenic applications.