For most of us, the air we breathe is cleaner now than it was a decade ago. That's good news, but it does depend on where you live. The American Lung Association's (ALA) 2015 "State of the Air" report says, "Nearly 138.5 million people—almost 44 percent of the nation—live where pollution levels are too often dangerous to breathe." The situation is especially bad in the western USA, with many urban areas in California suffering high levels of air pollution.
Overall though, the air around us is becoming more breathable as "… air emissions that create the six most widespread pollutants continue to drop," according to the ALA. This is especially true on the east coast, with cleaner power plant fuels and clean diesel being credited for the improvement.
Air Pollution Monitoring
The data used in the ALA's report comes from air quality monitoring stations. These automated systems are required under the Clean Air Act and currently are installed in nearly one third of all U.S. counties.
Monitoring is performed by using a technique called gas chromatography. It's one of the most widely used analytical methods in chemistry owing to its ability to isolate and detect individual chemical compounds. As well as air quality monitoring, gas chromatography is used in applications such as industrial process control, pharmaceuticals, and even forensics.
Operating Principle
In a gas chromatograph the sample, in gaseous or vapor form, is passed through or over a second compound called the "stationary phase." This takes place in a heated coil or "column," with a carrier gas, (typically either helium or nitrogen,) providing the transport mechanism. Compounds in the sample react with the stationary phase at different rates before appearing at the column outlet. The time it takes the "eluate," (the term for the reaction output,) to emerge is the "retention time," and this indicates the nature of the compound in the sample.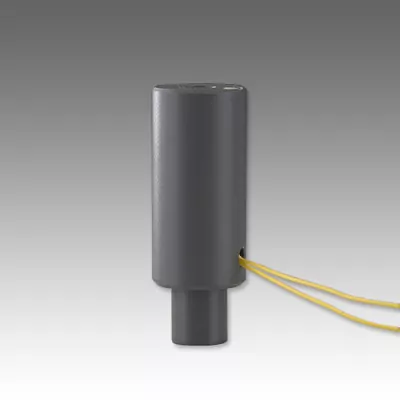 Getting quality results from a gas chromatograph hinges on consistent flow through the coil. ChemTec's CCM flow monitor is ideal for this kind of application where flow rates are low and abnormal operating conditions must be sensed quickly.
The CCM series flow monitors use a magnetic piston that rests at the flow tube inlet. The position of the piston changes with the flow of gas or liquid, and this is sensed by an adjustable reed switch. Repeatability is +/-2% and the non-contact operation combined with PVC construction for chemical resistance ensures long life and high reliability. Models are available to handle air flow rates from 10 to 16000 SCCM (0.021 to 33.9 SCFH).
Related Industry Articles
Air quality information is available from the American Lung Association's stateoftheair.org website. This includes a tool to search for results by state or zip code.
To learn which pollutants are monitored, follow this link to the "Air Quality Planning and Standards" page on the EPA website.