Natural gas is a domestically produced fossil fuel comprised mostly of methane. It is one of the cleanest burning alternatives to gasoline, diesel and propane and it can be used in the form of Compressed Natural Gas and Liquefied Natural Gas to fuel automobiles. CNG and LNG produce fewer undesirable gases than the alternative fuels and are also safer in the event of a spill because the natural gas is lighter and will disperse quickly when released.
Industry Growth
Global compressed natural gas market is anticipated to reach $129.8 billion by 2020, according to a new study by Grand View Research, Inc. Growth of global natural gas vehicles industry combined with increased automobile fuel efficiency attributed by CNG is anticipated to remain a key driving factor for the global market. Gas line breaks from ground movement, natural disasters, or third party damage can result in potentially catastrophic events from gas release into the atmosphere. Installing excess flow valves automate shutoff of a ruptured gas line to prevent explosions, like on most recent building collapse in New York City.
Featured Product: HPEFV
ChemTec's Excess Flow Valve integration into CNG fuel systems on the supply line provide automatic shut down in the event of a line rupture.
Product Features: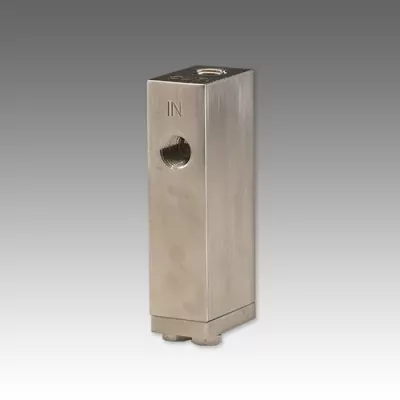 Controls high pressure excessive flows
Controlled bleed resets automatically
Field adjustable
Positive shut-off option
Maximum pressure 6000 PSIG
Detects excess flows
Detects increase in media viscosity
Function: Restricts or shuts off flow
Output: Switch contact (optional)
 Related Industry Articles
UPS Building Additional 15 CNG Stations and Increasing Natural Gas Fleet 
UPS announced plans to build 15 compressed natural gas (CNG) fueling stations to support the purchase and planned deployment of 1,400 new CNG vehicles over the next year. Twelve of the CNG stations will be in new natural gas vehicle deployment areas, and three will replace existing CNG stations with more robust, higher capacity equipment. READ MORE.
Compressed Natural Gas Market is Expected to be Worth $129.77 Billion By 2020
Non-associated gas emerged as leading source for CNG and accounted for 89.9% of total market volume in 2013. Increasing drilling activities particularly in Middle East is expected to ensure continuous supply of non-associated gases for CNG over the forecast period. READ MORE.
For more information about ChemTec's HPEFV in CNG applications or other product inquires, please contact our team at (800) 222-2177 or request a quote.